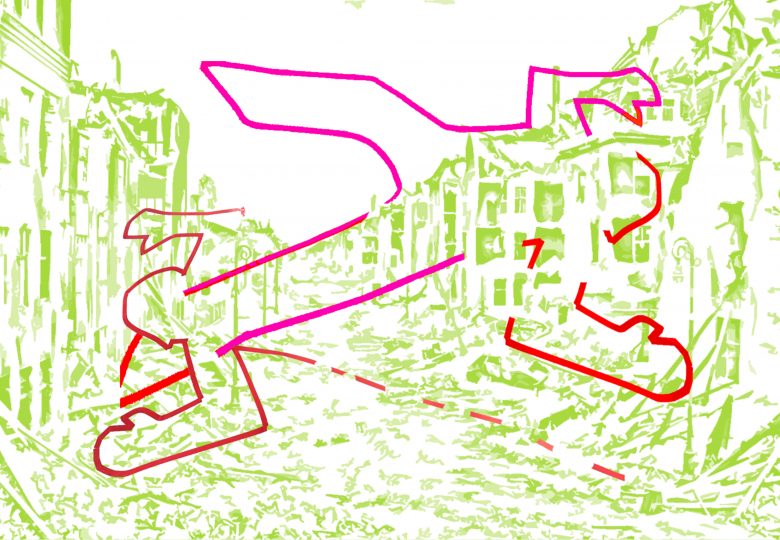 Aftermath is a surreal duet set in limbo, where two women suffer from eternal boredom and lack of acknowledgement.
The work is conceived as a means to relate to current issues such as the idea of 'Post-everything' (post-feminism, post-truth, post-idealism, post-humanism) and what that means to us as individuals with particular experiences of value, justice, agency, or the lack of those.
 In 'an imagined world' were the only option is to be resilient, what is our motivation for being so? Is motivation possible in a post-truth era?
Aftermath substitutes the idea of post-truth for the idea of post-time. The characters are dead. No change is possible. No future is waiting. And yet we wish to do something, but what?
The work emerges from experiencing motherhood and the social isolation that can come with it. The piece is not about motherhood, rather about that sense that 'something is over', and what then?
Performers: Charlotte Maclean and Eleanor Sikorski
Concept and choreography: Eva Recacha
Sound Artist: Alberto Ruiz Soler
Lighting Design: Jackie Shemesh
Commissioned by Sadler's Wells and supported by South East Dance, TripSpace, Greenwich Dance, Bernie Grant Arts Centre, Centre 151, the Spanish Embassy, The Place through Choreodrome, Yorkshire Dance.
---
Video
Aftermath.
 Touch Wood sharing. with charlotte Mclean and Kwame Asafo-Adjei. 10′